Volunteer for United Way of Orange County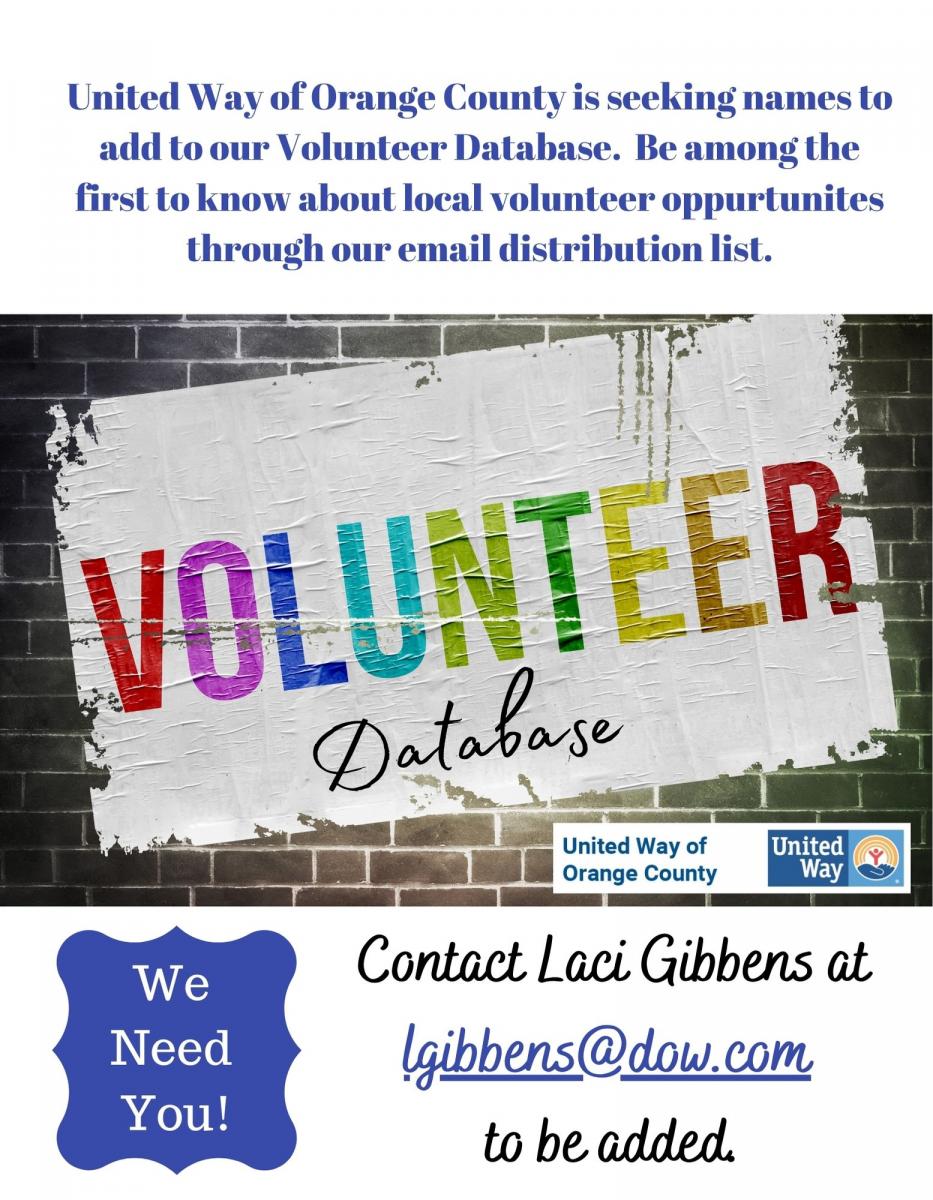 ---
---
Volunteer your time and your talents with our partner agencies.  
Boy Scouts
Three Rivers Council is looking for volunteers to help with plumbing repairs, electrical, and backhoe/dirt work at our camp in Woodville.  If you are interested in helping with plumbing and electrical, you would need to be certified in those fields.  If you are interest in helping with backhoe/dirt work, you would need to be able to provide the equipment needed.  Anyone who is capable and interested in helping with any of the items above, please reach out to Nancy Neff at nancy.neff@scouting.org.
Always looking for Adult Leaders who are working hand in hand with the scouts to make our program successful.
Always looking for Merit Badge Counselors who teach courses specific to their work field or lives to help scouts earn merit badges.
CASA of the Sabine Neches Region
Court-appointed special advocate (CASA) volunteers make a life-changing difference for children who have experienced abuse or neglect.
Each volunteer is appointed by a judge to advocate for a child's best interest in court. Our volunteers help judges develop a fuller picture of each child's life. Their advocacy enables judges to make the most well-informed decision for each child.
Who are our volunteers, and how are they prepared?
CASA volunteers are regular people, from all walks of life, who have been rigorously screened and trained extensively.
Each volunteer receives more than 30 hours of training before they work with a child, with an additional 12 hours of continued education required annually.
Volunteers receive ongoing support to help them advocate effectively on a child's behalf.
Volunteers must be 21 years or older and willing to submit to background checks.
To learn more or complete an application, visit www.casasnr.org
Family Services of Southeast Texas
Outreach Events Volunteer
Kid Connection Volunteer
Court Accompaniment Volunteer
Christine's Resale Shop Volunteer
Special Event Volunteer
Donations Volunteer
Youth After School Tutoring Volunteer
Depending on the nature of the volunteer services, training and/or background checks, as well as confidentiality statements may be required. 
GOALS  
GOALS needs tutors on a regular basis. It is easy to tutor, and it can be done on their premises or at Lamar State College Orange library. There is a small course and test for tutor to take online.
OCAA - Meals on Wheels 
Washing dishes in the kitchen 
Interact with Seniors during lunch through conversation, by playing games with them or setting up a movie day for them 
(Volunteers cannot serve or plate food without a food handlers license) but they can stack food in pantry when it arrives on the trucks.
The dining room needs to be swept and mopped daily.
Fill-in Drivers are always needed, paperwork is required for this volunteer activity.
Washing and vacuuming of delivery cars  - pressure washer and shop vac provided
Flower beds can always use attention as well as our herb garden – (picking herbs for use in the kitchen.)
Take pictures of food and other items and posting them to their Facebook page
Clerical work such as sending thank you notes, learning their software programs to help with computer work, getting donations via phone calls, etc.
Salvation Army 
Serve as a receptionist
Sort donated items at the Family Store
Assist with the Food Pantry Program 
Assist with Homework Assistance 
Assist with Mentoring Youth
Provide lawn maintenance
Assist with special events
Assist with Apartment Complex Outreach
Disaster services
Assist at the Angel Tree Warehouse at Christmas time
Take Angel Tree applications 
Ring bells at a Kettle during the Christmas season
Shorkey Center
The volunteers that come to the Shorkey Center are so welcomed. We always need something painted, something fixed, yard work, additional mulch for the playground (this is a very expensive endeavor to keep the play grounds covered in mulch). We cannot use volunteers in the classrooms or therapy because of HIPPA rules, but we can certainly use them on weekends to help with clean up.
Southeast Texas Food Bank 
To volunteer at the Southeast Texas Food Bank, click this link to get started:  https://setxfoodbank.org/volunteer/.
Southeast Texas Hospice
Southeast Texas Hospice has volunteers make crafts for the patients on a weekly basis. 
Volunteers deliver a meal from Larry's French Market Tuesdays and Thursdays to a patient family
Volunteers work around the office and visit with patients. 
*Any volunteers who volunteer with patients must go through a 30 hour training course first.  
Stable-Spirit
Most days of the week – Grooming Horses
Volunteers may come out and groom some of the 16 horses. When you first come out, you will need to call to schedule when you are coming so we can be sure to have an Associate available to teach you the routine and documentation when grooming the horses.
All Wednesdays throughout the day – Hippotherapy
Volunteers are needed every Wednesday to assist with the Hippotherapy sessions which are scheduled throughout the day starting at 9:00 am and ending at 5:30 pm. Volunteers can assist by getting the horses groomed before the session and helping to get them tacked up with the appropriate gear, be the horse handler during a session (must be 18 years of age), or be a side walker during the session (must be 14 years of age). Sessions are 30 minutes each, and during sometimes we have 2 clients, so 9:00, 9:30, 10:30, 11:00, 11:30am, 12:00, 1:00, 1:30, 2:00, 2:30, 3:00, 3:30, 4:00, 4:30 & 5:00pm.
Volunteers to assist with maintenance needs around the barn and facility on a weekly basis (mowing, weedeating, fence mending, etc.)
YMCA of Southeast Texas 
YMCA of Southeast Texas is always looking for volunteers in several areas:  Board of Directors, Membership/Program Committee, Finance Committee, Youth Sports, Member services (front desk).  
*We also encourage you to follow our UWOC Facebook page to learn more about special event volunteer opportunities as they arise.*