HARVEY RELIEF AND RECOVERY EFFORTS
Since Harvey made its impact on our area, United Way of Orange County has been working to assist in the relief and recovery efforts.  We created a Disaster Relief Fund which has generated over $689,000 for Orange County!  It is with much appreciation that we thank our generous donors:
·         Chevron Phillips Chemical Company
·         The Hurricane Harvey Disaster Relief Fund of The Dallas Foundation
·         First Financial Bank and Federal Home Loan Bank
·         Golden Pass
·         INVISTA
·         Southeast Texas Disaster Recovery Group
·         Community Members of St. Landry Evangeline United Way
·         United Way of Greater Houston
·         United Way Worldwide
·         And Many Individuals
The funds earned are 100% for Orange County's Harvey disaster relief and recovery.  Funds are disbursed in the following ways:
·         Grants to agencies assisting individuals with disaster relief and recovery
·         Gift cards to individuals via agencies assisting with disaster relief and recovery
·         Home rebuild supplies (sheetrock, etc.) for Orange County home owners
(in a coordinated effort with case management and labor by Nehemiah's Vision)
·         Small grants to partner agencies which have had severe impact due to Harvey
·         Funds used for long-term recovery
In addition to the funding we have received, here are some other ways United Way of Orange County has helped…
·         Answered 350 phone calls within the first ten days of the storm, providing resources to individuals and advising donors of intake sites
·         Coordinated approximately $188,000 of relief supplies (bottled water, food, diapers, cleaning supplies, etc.) for Orange County
·         Volunteered and solicited additional volunteers at distribution sites
·         Secured warehouse to hold additional donations until agencies had room for them
·         Worked with Partner Agencies to assist with various resources
·         Distributed about 150 pieces of furniture, over 50 twin mattresses, and 20 rails and foundations to 62 families
·         Provided approximately 75 comfort care kits to children impacted by Harvey
·         Worked with leaders from United Ways of Texas and United Way Worldwide to obtain additional resources for Orange County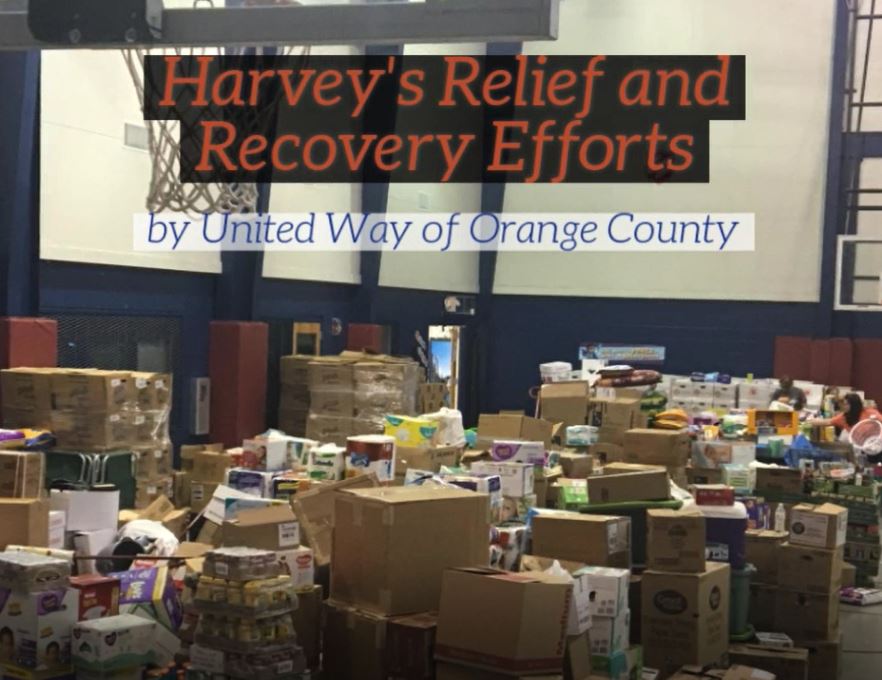 CLICK HERE TO SEE A VIDEO OF OUR HARVEY RELIEF EFFORTS!
RESOURCES
Individuals still needing help due to the impact from Harvey should call 211 and register so that a Disaster Case Manager can be assigned to you.
Additional Resources
·         Texas Harvey Disaster Page (https://www.fema.gov/disaster/4332)
·         Hurricane Harvey Disaster Page (https://www.fema.gov/hurricane-harvey)
HARVEY COMMEMORATIVE BOOK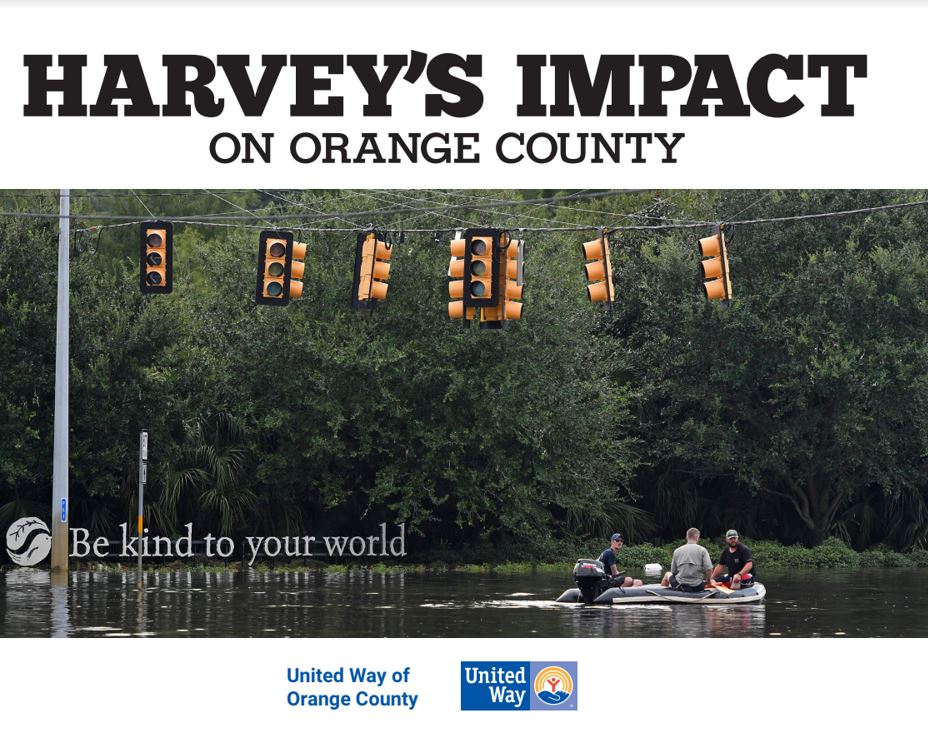 We still have a small supply of Commemorative Harvey books.
United Way of Orange County would like to thank EVERYONE who uploaded pictures for the book. While we could not use them all, we do have a great collection to show the impact Harvey had on our area. And we were proud to highlight some of the recovery efforts to help people in Orange County. #LIVEUNITED
Books can be picked up at the United Way of Orange County office located at 1506 West Park Avenue, Orange, Texas 77630. Books are $30 (cash or check) which includes shipping and applicable sales tax.
Office hours are Monday – Friday from 8:00 a.m. – 5:00 p.m. Phone number is 409-883-3591.
LIMITED QUANTITIES AVAILABLE