TROPICAL DEPRESSION IMELDA RELIEF AND RECOVERY EFFORTS
Please check our Facebook page for frequent updates not only from our organization, but also from our Partner Agencies, Orange County officials, and others.
2021 CSBG DRSF (TS Imelda) Stabilization Guidelines
1. Stabilization services are available through SETRPC to qualifying residents of Jefferson and Orange Counties impacted by Tropical Storm Imelda.
2. Appointments are to be scheduled through SETRPC. Call the number once and leave a message. Case Manager (CM) will callback and provide further instructions. Jefferson County: (409) 550-3562. Orange County: (409) 926-9722
3. SETRC Stabilization will assist with the following services: • Utilities: Water, Light, Gas-Disconnect notices (No deposits/late fees/re-connect charges) • Rent: Eviction notices (No deposits, Application fees, Late fees, & Court & Filing fees)
4. Applications must be submitted with the following supporting documentation: • Texas Driver's License or Picture ID, Non-Expired • Verification of household's gross income for the 30-day period prior to date of application. • If proof of income is unobtainable, the applicant must complete and sign Declaration of Income Statement (DIS). DIS must also be used for households declaring zero income. • FEMA letter stating being directly impacted by TS Imelda. Reflecting approval or denial of damages OR private homeowner insurance letter that reflects approval or denial of claim. • Utility bill(s). • Rental/Lease Agreement, Eviction Notice and Contact information for property owner.
5. Applicant process as follows:
   A. Applicant must be at or below the 200th percentile of Federal Poverty Level
   B. Client to call and leave message for callback.
   C. CM to contact client and give further instructions for intake.
   D. If Intake and supporting data received CM will proceed to make pledges (F).
   E. If Intake and supporting documents are not received, a 5-day timeframe will be given to client for document submission. If not received by date: Denial letter will be mailed.
   F. If other assistance outside rent/utilizes is requested a home visit will be scheduled by CM.
   G. CM will contact utility company or property manager/owner to make pledges and notify of assistance and provide Vendor and Debarment forms to vendors. Documents to be returned to CM along with W-9.
   H. CM to submit check requests to SETRPC.
   I. CM to mail checks to vendors along with receipt letter for signature, receipt, and selfaddressed stamped envelope. Once signed receipt is received it will be filed in client casefile.
Services may not be duplicated with CSBG DSRF funds. Applicants may receive assistance one time within a program year with CSBG DRSF funds. A cap for $2,500 per household has been set for PY21 and may not be exceeded without prior approval of the Program Operations Manager or Program Director. Priority qualifying circumstances may include but are not limited to the elderly population, homes with children under the age of five, severely ill, disabled and life support patients.
DONATIONS
If you would like to donate to Disaster Recovery for Tropical Storm Imelda recovery efforts, you can do so online. We have a donate button at the top of our website or you can simply click here. If you type "Imelda" in the comments, your donation will be designated strictly for Imelda disaster recovery and the funds will 100% stay in Orange County and 100% go to recovery efforts. 
IMELDA DAMAGE SURVEY
To provide assistance to Orange County citizens in the most efficient and accurate way we are asking each citizen affected by Tropical Storm Imelda to complete the IMELDA DAMAGE SURVEY located on Orange County's website www.co.orange.tx.us. The objective of this survey is to aid the Office of Emergency Management and Orange County Disaster Rebuild as they assess and identify damages and needs within the community.  Accurately reporting your location of damaged residence will allow emergency management to prioritize recovery efforts in the most affected areas.  Reporting damage to Emergency Management is a voluntary activity and is not a substitute for reporting damage to your insurance agency nor does it guarantee disaster relief assistance.
HOME CLEANUP HOTLINE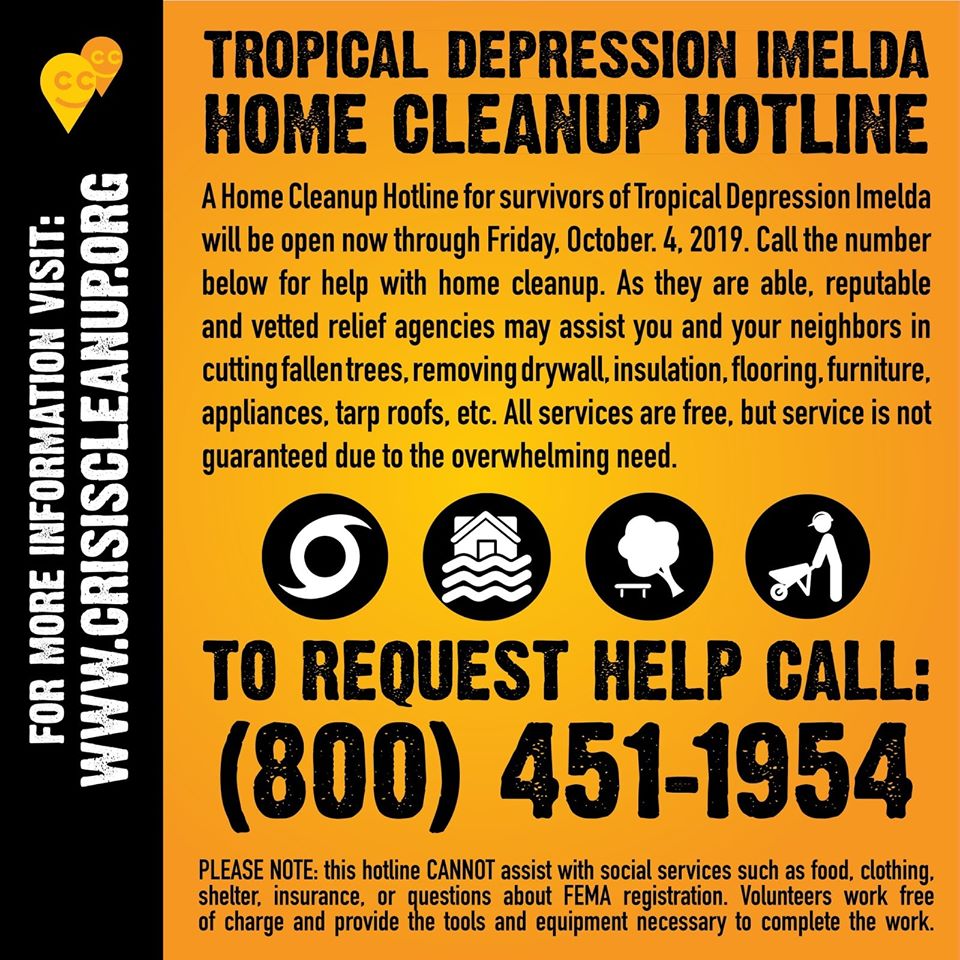 TIPS FOR FLOODED HOUSEHOLDS
Save your receipts!  Use one box or waterproof bag to store ALL receipts related to flooding/rebuild/repair.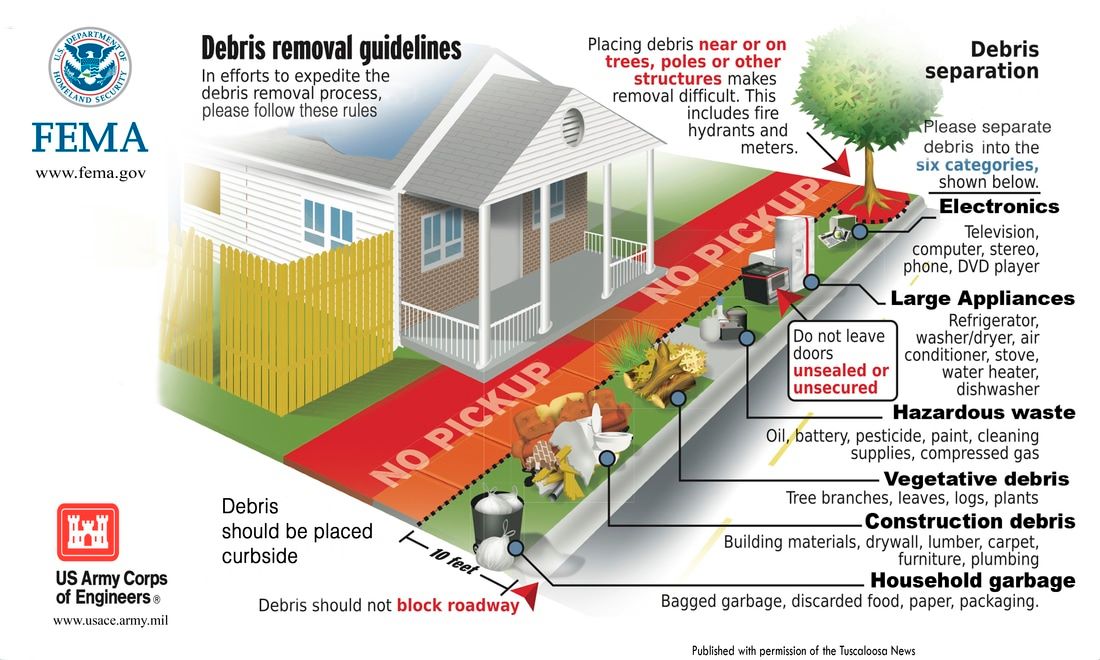 CONSUMER TIPS FOR HIRING A CONTRACTOR (from G&G Construction Enterprises)
1.Make sure the contractor is Bonded and Insured
-Ask to see a certificate of insurance
-Call the insurance company listed to make sure the insurance policy is still in force
-Ask for a certificate of insurance naming you as an additional insured
This certificate protects you, the homeowner, from liability IF someone asserts a claim against you for injuries while sustained at your home
-All companies who do things the right way should have a general liability insurance certificate.
2. Pick a contractor who specializes in your project type
-today many projects a regulated and code-specific that you want someone who knows the details of what's required
-if you are asking several contractors for a bid make sure each one is using the same scope of work so that you can compare estimates apples-to-apples. That also goes for the quality of the materials used.
3. Have a detailed contract in place before any work begins
If the scope of work is clear and the contractor is thorough, a contract should not exceed the original cost of the contract unless there are changes made by the Owner OR there are unforeseen conditions which were not made known at the time the estimate was assembled. The contract should include a detailed list of items being installed, approximate start and finish dates, and scope of work or services provided
4. Check that the contractor is approved by the BBB Better Business Bureau http://www.bbb.org/southeast-texas/ and your local Chamber of Commerce; this can be a great resource to find out about a company and doesn't cost you, the consumer
5. Look at Work Samples
this lets you see a contractor's handiwork and may spark ideas for your project reputable companies have websites with examples and/or information through social media
6. Think Locally
- area contractors who have been in business for a long time are usually reliable and local contractors who use local vendors help your local economy
7. Closeout Documentation
-Once the project is complete, make sure you have the following items from the contractor:
-Final Lien Release: This document should be filled out by the contractor, subcontractors and all material providers who were used in rebuilding your house.This is the only document that protects you and your home from untimely and/or false lien claims long after the job is done.
-Warranty – In writing