Our Partner Agencies: 
At United Way of Orange County, we are proud to provide our Partner Agencies with more than just funds. Being a Partner Agency also includes receiving valuable guidance, support and resources such as educational sessions, professional development, collaborations with other nonprofits and networking opportunities to help support their work and build a stronger community.  
We are honored to call these organizations Partner Agencies: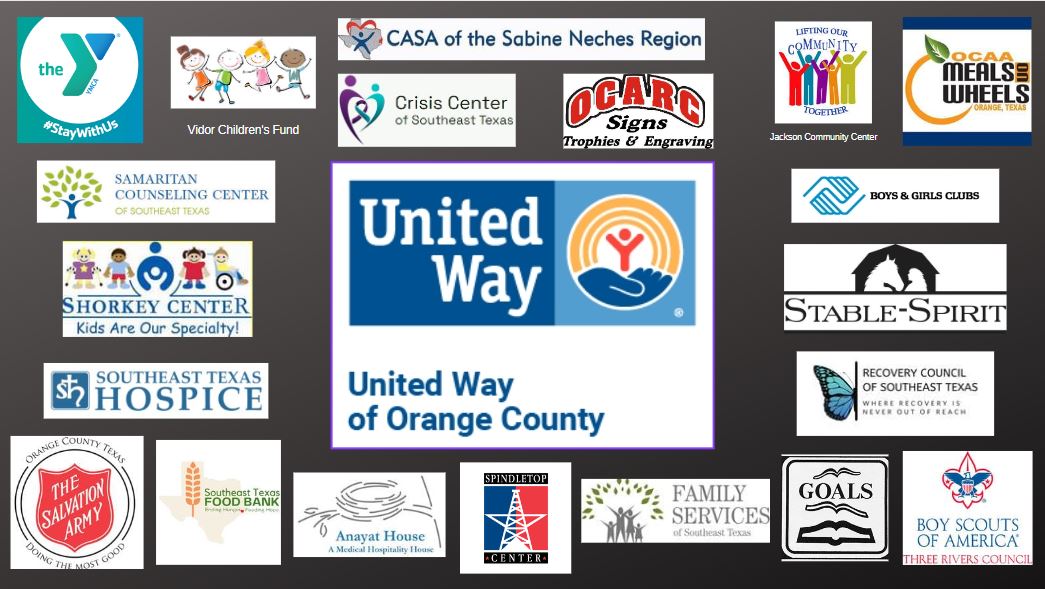 Health * Education * Financial Stability
Criteria to Become a Partner Agency
Agency must have non-profit status as defined under section 501(c)(3) of the Internal Revenue Code.
Agency must offer a program that addresses a clearly demonstrated community need in reference to at least one of three areas of United Way focus of health, education, or financial stability.
Agency must provide needs or services to residents of at least one of the following zip codes: 77611, 77614, 77626, 77630, 77631, 77632, 77639, 77662, 77670.
Agency services must be available to citizens of the community without regard to race, religion, national origin, or political creed.
Agency must maintain an active local governing board of adequate size, background, and diversity to represent the community, serving without compensation, holding regular, documented meetings (at least quarterly) and demonstrating effective administrative control.  Minutes are to be available to United Way of Orange County upon request.
Agency must be in existence for a minimum of three years.  Agency must have annual audit or compiled financial statements for those three years completed by a Certified Public Accountant acceptable to the United Way. This requirement must be repeated for each subsequent funding request. Agencies must also submit their most current IRS Form 990.
Purpose of LOI
To communicate interest in becoming a Partner Agency for United Way of Orange County. 

The LOI MUST be submitted online no later than January 24, 2023 to be eligible to apply for 2024 grant funding.

Submission of the LOI does NOT guarantee funding from United Way of Orange County.
New agencies interested in applying with United Way of Orange County will need to submit a Letter of Intent.  The next opportunity to submit a Letter of Intent will open January 2024.
2023 Grant Process Timeline for 2024 Funding
January 3rd
January 24th
February 1st
March 15th
March – April
April 
May
2024
2024
Letter of Intent (LOI) Available Online for Interested Agencies
Deadline to Submit LOI
Invitations to Apply Sent to Agencies
Agency Site Visits
Agency Grant Request Presentations
Agency Allocations Announced to Partner Agencies
Agency Quarterly Reports Due
Agency Grants Paid Quarterly